The 6th European Slag Conference
Ferrous Slag – Resource Development for an Environmentally Sustainable World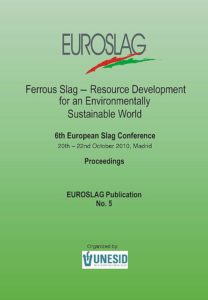 The 6th European Slag Conference of EUROSLAG has been held from 20 to 22 October 2010 in Madrid, Spain. The conference was organised by UNESID (Spanish Steel Association).
The purpose of the conference was to encourage the exchange of knowledge and the promotion of suitable technical, innovative, efficient and environmental solutions using steel slag from Electric Arc Furnaces (both Carbon and Stainless Steel production) and from Linz Donawitz and Argon Oxygen Decarburization processes. A principal focus was the improvement in utilisation of these materials in southern Europe.
The conference dealt also with the main challenges arising from the most recent environmental and technical legislation (REACH, presence of dangerous substances etc). It also included sessions related to recent developments concerning Blast Furnace slag.
The conference was not only directed towards people already involved in the slag business, but also at those who have an interest in slag applications in the future and people involved in the regulatory decisions regarding use of slags. Steel producers, slag processors, equipment and additive providers, specifiers, national and local government bodies, the research community, and users such as construction companies, the cement industry, civil engineers, etc. did all benefit from attending the conference.
More information at www.euroslag2010.eu
Proceedings of the 6th conference are published as EUROSLAG Publication No. 5 (381 pages, 40,- € plus shipment costs).